.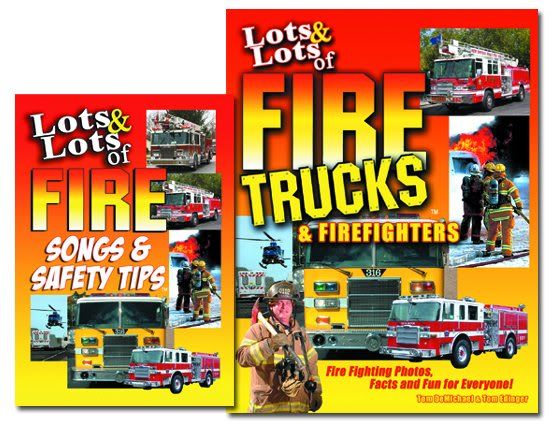 Do you have a fire-truck obsessed kiddo? Then I have a fabulous product for you! We were recently sent
Lots and Lots of Firetrucks book and Fire Songs and Safety Tips DVD bundle
from
Marshall Publishing
.
Lots and Lots of Firetrucks is exactly what you will see in this book – PLUS plenty more! It includes chapters on firefighter tools and equipment, types of rescue vehicles, the science behind fires and fire fighting, the history of firefighting, and a firefighting timeline. The book is 123 pages of color, lifelike images of firemen and firefighters.
One of my favorite sections of the book is entitled "Meet Firefighter Joe", which documents all of the clothing that a fireman wears to a fire, along with a description of its purpose. Likewise, there's a chapter about all of the tools used by firemen. I'm planning on using the information from these chapters to make some 3 part cards of a fireman and firemen tools for Aikman.
We also enjoyed the history of firefighting. I appreciated the fact that the book included facts about the greatest fires in history – from the burning of Rome to the Great Chicago and London fires, to the 9/11 Twin Towers.
Also in the bundle is Lots and Lots of Fire Songs and Safety Tips. On this 30 minute DVD, there are two main settings – a short 12 minute "classroom" video that condenses all of the information down into one segment; and a series of videos and catchy songs about firemen and fire safety.
So, what did Aikman think? He enjoyed the book, and has repeatedly looked at it; however, after watching the video, he has not shown interest in watching it more than once (he does sing the songs around the house, though, so something definitely stuck!). The only criticism I have about the DVD is that they mention a pay phone and show a child using a pay phone, which is a bit outdated for today's society. My husband also mentioned that some of the clips of video were shot at a low-resolution, so some of the images (on a high-def TV) are not super-clear.
This bundle is available from
Marshall Publishing
. It typically sells for $49.90; however, right now, it is on sale for $29.95. BUT, by using the discount code TOSF1, you can purchase the set for $19.95!
The people at Marshall publishing were so sweet that they also sent an extra gift of
George Washington Carver – His life and works DVD
. This product is also on sale for $19.95, but with the TOSF1 code, it is $16.95!
Have a child obsessed with one type of vehicle? Other products you may enjoy from Marshall Publishing are
Lots and Lots of Monster Trucks
and
Lots and Lots of Jets and Planes
.
Wanna read what other TOS crew members say about both of these products? Click
here
.
Disclaimer: As a part of the TOS crew, I received this product free of charge in exchange for a review, whether positive or negative. I did not receive any additional compensation.