.
As a math-lover, I enjoy looking through different math curriculum to get new ideas and determine what works best for our family. There are SO many different theories and methods of teaching math, and each curriculum presents the material in its own unique way.
Maria at Math Mammoth personally spoke with each TOS reviewer to find the best curriculum fit for their family. Since Aikman is a mixture of grade-levels (1st grade addition, 2nd grade place value, and not yet starting multiplication/fractions), we chose to review her blue-series products, in particular, the
blue series for grades 1-3
collection.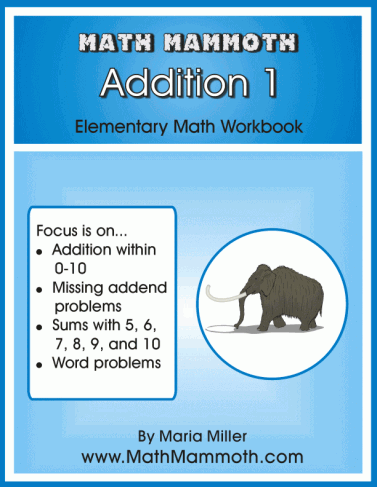 The
blue series
is a "set of worktexts on specific topics." These books are NOT designed to be a complete curriculum… if that is what you are looking for, then you would want to consider her
Light Blue Series
instead. The individual books cover topics that are studied in grades 1-6.
The books in this series include:
Addition for grades 1-4 (books 1, 2A, 2B, 3, and 4)
Place value for grades 1-6 (books 1-5)
Clock for grades 1-3
Money for grades 1-3
Measuring for grades 1-5 (books 1 and 2)
Metric measuring for grades 1-5
multiplication and division for grades 2-5 (books 1 – 3)
Geometry for grades 1-7 (Early geometry as well as books 1 and 2)
Probability and Statistics for grades 5-7
Fractions for grades 1-6 (Intro to fractions as well as books 1 and 2)
Decimals for grades 1-6 (books 1-3)
Operations and beginning algebra for grades 5-6
Ratio, proportions and problem solve for grades 5-6
Percent for grades 6-8
Integers for grades 5-8
To see how these books fit together to give you a continuously flowing ungraded curriculum, see
this guide
. Or, if you need help deciding which leveled book is best for your child, use
the placement test
– Maria even allows each family to contact her to find the best fit, just as she did for us TOSers reviewing her products!
Here are some of my thoughts about a few of the products within the Blue Series….

Addition 1:
The first book that I looked at and printed for Aikman to use was
Addition 1
. I loved the way that this worktext began with groupings and looking at families of addition problems (ie 0 and 5, 1 and 4, 2 and 3, 4 and 1, and 5 and 0). This is all done pictorially, which is a great transition as Aikman moves from concrete objects to abstract thinking. Each page includes varying levels of thinking skills… from pre-grouped objects, to the child drawing dots to make the addition fact, to the child determining his own groupings of objects. (image above from Addition 1, page 17)
What I also liked about this book is that it includes Montessori-style addition tables, lessons on learning addition on a number line, and various activities to help the child to internalize the addition facts.
Remember
this game
that Aikman and I played a year or so ago? (I had entirely forgotten that we'd played this… and I definitely think it will be making a comeback in the next few weeks as we are working on addition facts!) Well, Math Mammoth mentions a similar game in the Addition 1 book. In fact, at the beginning of each book Maria also includes games to play to help with the topic being studied as well as links to online resources to supplement the curriculum, if the child needs additional practice.
Place value 1 and 2:
Place value 1
focuses on numbers 0-100. This book actually works REALLY well with our Montessori studies, as it focus on a visual approach to these numbers. The first lesson is reminiscent of our
first "exchange" game
, where Aikman learned to exchange blocks for a 10-bar. However, in the text, rather than manipulating blocks, the child circles each group of 10…. again, this is a nice transition for a child who has been working on concrete objects and is now moving towards abstraction.
image above taken from Place Value 1, page 11; image below from Place Value 2, page 11
Place Value 2
deals with numbers 100-999, as well as rounding, ordering, and comparing numbers. I really like that Math Mammoth connects the visual image of the number with its relative location to other numbers (via a number line). We have been working out way through selected exercises in this book, but only in small chunks, as it is a little too advanced for Aikman (again, this was made for an older child!).
Counting coins (US, Australian, British, European, and Canadian):
My
FAVORITE part
of Math Mammoth; however, is the money books. It is NOT very often that you will find a curriculum that includes counting money from around the world! Math Mammoth doesn't feature one, but FIVE different currencies! As a Montessorian, now I not only have cultural items for my continent boxes, but I now can have Aikman practice math using authentic money lessons from 5 different countries! Personally, I think these are WELL worth the $3.00 - $3.25 price tag for each book! (image above taken from page 7 of the British money book.)

The only thing that I found difficult with this curriculum as a whole is that it involves some writing of mathematical terms (ie 56 = fifty-six). This is NOT the fault of the curriculum, but rather that my son is not at this ability level just yet. Again, it IS for grades 1-3, and my son is just a Kindergartener working at an advanced math level, but not advanced reading/writing level.
The books can be purchased individually or in a group package through
Kagi
or
Currclick
. Individually the ebooks cost between $2 and $7. You can also buy the books as a part of a
package deal
– $95 for the ebooks or $100 for the CD containing all of these books. You can also purchase the ebooks for grades 1-3 (19 books total) for $38 or the ebooks for grades 4-6 (20 books) for $57. There is also the option to buy a printed worktext through
Lulu
or
Currclick
.
Disclaimer: As a part of the TOS crew, I received this product free of charge in exchange for a review, whether positive or negative. I did not receive any additional compensation.