Internet security is always an issue looming inside many parents' minds, especially those with older children. It is a fine line between learning how to use the computer with the equally scary dangers that potentially could occur. That's where Action Alert comes in…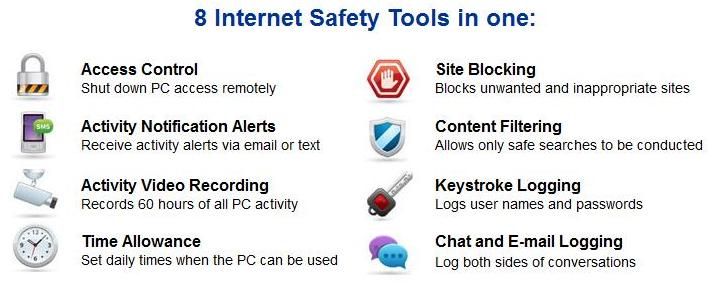 Action Alert offers many different features for their software. You can block or even filter websites. You can control the amount of time and the time of day that the child can get on the computer. You can even receive notifications if anything suspicious occurs and to receive reports/activity on the computer.
One of the aspects that I really liked about this program is that they offer two different versions of the software – a free version as well as maximum protection. Amazingly, this company is offering most of the features for FREE! (Talk about a company devoted to internet security!) The free version will block sites, filters content, utilizes the time controls, and even will email/text you if it finds suspicious activity.
Maximum protection grants you all of the free version, plus an additional toolbar with added functionality, AND it will record every keystroke and screen just like you are watching it play out from the DVR.
So, any worries that you have about cyber-bullying, sexting, online predators, or even accidentally bringing up a website with questionable content can be avoided.
Note: Action Alert only works on Windows PCs and notebooks that has Windows XP or higher. Likewise, Action Alert was previously released as PG Key, but has been improved upon.
What we thought:
Since Aikman is 5, he really doesn't use the computer very often, other than very controlled settings when we are sitting next to him. Action Alert looks like a really good program; it just wasn't used very much since we didn't need it at this time. It was easy to install and to set up – only a quick second to enter in my email and set up a password. It was user-friendly.
You can download the free version or get the Maximum Protection for $29.99 here.
You can read what other TOS crew members think about this software here.