We were given the chance to review K5, a web-based learning program.
It is based around 4 core subjects: Reading, Spelling, Math, and Math Facts. Reading covers just that – from learning the sounds, to sight words, to reading comprehension. Math covers topics such as geometry, measurement, time, money, and even calendar skills. Math Facts works on the math tables for addition, subtraction, multiplication, and division.
It is designed so that the child is self-sufficient, and does not need a parent assisting him with the program.
One of the aspects of the program that I like is that your child is assessed in reading and math and is then placed according to what he/she needs to work on. So, your child can work on topics that may be above or below grade level – depending upon the child's needs.
However, for a 5 year old in kindergarten, I think the assessment takes a little too long, which can take up to 45 minutes per subject. It does include short breaks, with educational games to let their minds rest for a few minutes, but I think the program could have figured out much quicker than it did what he did and did not know, without quite so many questions.
I do like how the assessment report does break things down nicely for the parents. It shows where the child stands per general grade guidelines – above, at, or below grade level. However, for many homeschooling families "grade level" really doesn't make a difference.
Another aspect of the program that I really like is that you can assign specific topics for the child. Are you study geometry in your math curriculum, and she needs a little extra practice? You can have the program reteach this subject, and have the child complete the activities dealing with this, without having to reset all of their other work just to practice this one skill.
One thing that I wish I could see within this program is the list of assignments, specifically which ones my son has completed/mastered (including from the assessment), and what topics he is headed to next (or even when he has completed all of the assignments for a specific grade level. The way that it is set up now, I have to compare 3 different charts/reports to determine what he has completed and where he is heading next.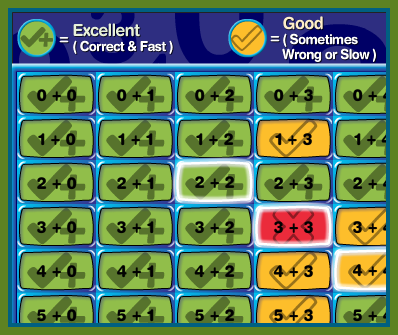 Aikman's favorite area was the math facts section. I liked that it had a table showing which math facts he had learned. The table, similar to the one to the left, shows exactly what facts the child has learned. My problem, however, is that it took a very long time to move from one level to the next. Aikman began on the +0 facts, which had already knew. He then moved on to the +1 facts (again something that he already knew). But, according to the system, he had worked on these facts for nearly 2 hours total over the trial period, and he still had not yet finished the +1 videos, and therefore, had not finished the quiz over +1 facts. So, the only green column showing mastery on his table were the +0 ones. Disappointingly, after 2 hours over nearly 6 weeks time, he still did not show a gain in his addition facts.
He did work on the reading one also, but it placed him in the vowels section, and had him sounding out simple CVC words, which he has already mastered. He did enjoy the sight words section that was mixed in between these, but the exercises were too long and repetitive for him, and he would often exclaim, "oh, I have to do this again!?!"
We did not try the spelling section, since this is not a skill that we are emphasizing at this time.
There are also reward games that the child can earn the chance to play. However, for a 5 year old, it was too complicated for him to figure out how to play them. I did not like that it did not contain an option to turn off the games, especially since they were frustrating him so much. Instead, we had to wait until the game timer went off.
Overall, it was a decent program. It wasn't one that he asked for, and I often had to beg him to use it each day of the trial. However, I think it may work better for a child that is a little older – say 2nd or 3rd grade – and prefers online programs.
You can purchase K5 Learning for $25/month for the first child and $15/month for the second child, or an annual subscription for $199 for one child or $299 for 2 children. You can also try out the program with a 14 day trial.
Read what other crew members have to say here.
Disclosure: We were given a 6 weeks trial of K5, in exchange for an honest review.