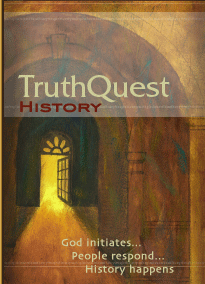 I'm a math geek, not a history buff. In fact, I fail miserably at teaching Aikman about history. Luckily, TruthQuest came to save me!
TruthQuest History is a literature-based approach to learning history with an emphasis on a Christian perspective of each event. For the past few weeks, we've been reviewing TruthQuest History's American History II for the Young Students, which covers the history of the US from 1800 – 1865 and designed for grades 1-5. The basis of the program is that the parent reads the short background information on the topic being studied (provided in the guide), books are read on this topic, and then where appropriate, a "ThinkQuest" writing prompt is used to then bring in the idea of how God is involved in this.
The American History guide we reviewed contains a very detailed list of topics to study, including:
building Washington DC
Lewis and Clark
War of 1812
inventions and science discoveries
Pioneers
Native American tribes and the wars that involved them
Mountain Men
Slavery
American writers
Progress out west – from the battle of the Alamo, California, Oregon Trail, and the Gold Rush
High Seas adventures and whaling
Underground Railroad
Civil War – over 60 pages detailing nearly every aspect of this war!
I choose this product because this spring is a monumental time in Tennessee – the 150th anniversary of many Civil War battles in Tennessee. In fact, the first week in April, a local battlefield – Shiloh – held one of the largest re-enactments ever in the country. I wanted to use this product to help me explain the civil war to Aikman.
Instead of focusing on the physical damages of war, I wanted to expose him to slavery and how brave many of them were. I started with explaining how the plantation owners owned slaves and how they were not very kind to them. We choose several books from the list –
Nettie's Trip South
by Ann Turner and
Who Owns the Sun
by Stacy Chbosky (out of print). We also read several
Brer Rabbit tales
, which are based upon slave folklore.
Since we live in Tennessee, which was a Confederate State, I also wanted to read several books off of the guide based around this. However, the closest thing I could find at our library was
this book
(out of print) on Jefferson Davis, the president of the Confederate States. We then created one of the confederate flags out of construction paper.
As a final reminder about the Civil War, I reminded him of our field trip to the TN State Museum, where we saw weapons used in the Civil War, and discussed how the soldiers lived and what they would have carried with them.
What did we think?
I liked that the guide was extremely thorough in finding books for each subject. In fact, it includes TONS of books on each subject. I don't think I saw a single topic have less than 3 or 4 books – and that was for the lesser topics. It also listed general guidelines for books and even if the books were out of print at the time of publication. However, it is strictly that – a list of books on each topic. It does include 3 "ThinkWrites" which brings in a writing and analysis component and adds in the Christian perspective. For the number of topics studied, I don't believe three writing prompts connecting a God and the Bible is enough to classify it as a Christian product. The products for grades 5-12 may have more detailed studies with Christian views intertwined; it just wasn't as involved as I would like in the product we reviewed.
The other aspect of this product that I would like to see improved upon is the "Activities" that are included with many of the topics. The nook recommendations are almost entirely Dover books that are coloring books and/or paper dolls. With an overactive child who needs physical activities to relate, he needs more than coloring pages. I would have liked to see a list of additional activities that a parent could do with the child to supplement the reading.
Products from TruthQuest History range from
Beginnings
(Creation to Ancient Egypt),
Ancient Greece
and
Rome
, the
Middle Ages
,
Renaissance and Reformation
,
Revolution
, and
American History
. Each guide is priced between $19.99 and $29.99 as a pdf or $24.95 – $34.95 in printed form. Additional resources – mini-books/lapbooks, notebooking pages, and maps/timeslines -- are available for each product for $18, $13, and $13 respectively or as a bundle for $39.
You can read what other crew members think
here
.
Disclaimer: I received a free pdf of American History II for Young Students free of charge, in exchange for an honest review of the product. I did not receive any additional compensation.