We love studying the ocean – from the coral reefs to the dark depths of the ocean. I was given the chance to review Dive into Your Imagination's Dive into Diversity DVD curriculum.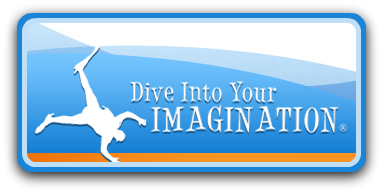 Annie Crawley, the founder of Dive Into Your Imagination, is a photo and broadcast journalist – turned – scuba diver and underwater cinematographer. She is the narrator behind each product, and shares with the viewers her expertise about ocean life! Annie's passion for conserving the ocean and sharing the joys of the amazing underwater world with children shine throughout her products!
Dive into Diversity is a 44 minute DVD and corresponding pdf teacher's guides that walks through each chapter of the DVD. The DVD is designed for grades preK – grade 3; however, the teacher guides are dividing into more specific abilities and reading levels – one for preK and kindergarten; the other for grades 1-3.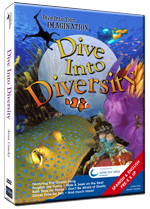 Topics on this DVD include:
night diving
diversity within the ocean
Submarines
invertebrates
vertebrates
crustaceans
coral reefs
the kelp forest.
The segments on the DVD are filled with Annie's underwater footage, and then narrated with interesting facts about the different animals seen in the shots.
For each lesson on the the PreK-K teacher's guide, you will find lesson objectives, a character education trait, vocabulary words, materials needed, lead-in questions, imaginative play script, activities, extension ideas, suggested books, follow-up activities and discussions, transcript of the DVD, and printables.
So, what did we think?
I believe the true test for a DVD is how often it is requested. Aikman asked to watch it one afternoon. The following day, we were heading on a weekend getaway with my family, and I let him choose any of the DVDs from our extensive movie collection to take with us. He chose to take Dive Into Diversity! In fact, after watching it once on the way there, he and his cousins begged to watch it 3 more times that weekend!
Personally, I was quite impressed with how well this DVD is put together. It is very informative, with quite captivating scenes that have been filmed. I even learned quite a bit by watching the clips. It will definitely be a DVD that we will reference again and again. I also appreciate her use of real terminology that she uses within the narration; she doesn't "water down" terms or explanations because this is a kids product.
In fact, in the fall, we will begin a biome study, including an in-depth study of the ocean, and I am already planning on buying Exploring Coral Reefs since we have enjoyed this one so much! (See below for the SWEET deal that she's offering!)
You can purchase Dive into Diversity or any of her other products through her store. The DVD sells for $19.95, while the educators guides that contains all of the lessons sells for $299 printed or $69.95 as a pdf.
The best news is that Dive Into Your Imagination is offering FREE SHIPPING on all orders in June!
PLUS, if you mention to her that you are a homeschool parent who saw these reviews, you will receive the educator's guide for the products you purchase for FREE!!! (Educator guides are available for Dive Into Diversity, What Makes a Fish a Fish, and Who Lives in the Sea) That's more than a $70 savings!
Read what other Homeschool Crew members think of the Dive Into Your Imagination products here.
Disclosure: I received a free copy of Dive into Diversity DVD and the corresponding educator's guide for free, in exchange for an honest review. I was not compensated in any other way!