One of the skills that we've been working on lately is to exchange coins from one denomination to the other. It can be a hard skill for kids to learn, but by playing this simple game, it can be quite fun! We were inspired by this game thanks to The Moveable Alphabet. You can read about her post here.
Set-up:
How to play:
All of the coins are placed in the container (the "bank") and placed between two players. One person is chosen to go first and rolls the die. The number rolled indicates the number of pennies to be taken from the "bank".
After the coins are taken from the bank, the child looks to see if they can make an exchange, using the chart as a guide.
The first person to exchange their coins to get the quarter is the winner.
Control of error:
The number of coins are used as the control for this activity. If the child cannot get the necessary number of pennies and/or coins to exchange from the bank, then the children need to look over their coins to see if they need to perform any exchanges.
Extension:
After this game is played so that quarters are easily exchanged, you can add 3 additional quarters and a dollar bill to the "bank." The game is continued until 1 person can exchange for the dollar.
I'm linking up to Montessori Monday.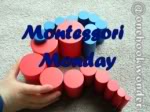 ---
Like what you've seen on this post? Make sure you check out Montessori Tidbits on FB, G+, pinterest, and twitter for all of my latest updates!