Do your kids struggle with character traits? This is an on-going battle that we struggle with at our home, especially for a boy who gets the "gimmes" on a regular basis.

Thank goodness for We Choose Virtures! The TOS crew was recently asked to review the Virtue Clue Cards, along with the Family Character Assessment (FREE!), Kids of Virtueville coloring book, and Teacher Handbook.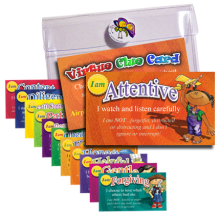 The Virtue Clue Cards are full-color business cards that contain the 12 basic virtues discussed in the We Choose Virtues curriculum. The are stored in a handy plastic case, which Aikman referred to as his wallet. The virtues included are: attentiveness, contentment, diligence, forgiveness, gentleness, helpfulness, honesty, kindness, obedience, patience, perseverance, and self-control. Each card contains a description of the virtue, along with the image of the character that goes along with this virtue (kindness = Kettle Gretel). These same characters are used in the coloring books.
The teacher handbook also has some wonderfully insightful ideas for teaching kids virtues. The author shares candid stories of how she taught her classes the virtues, and also gives great ideas and tips for teaching the virtues to your kids or in a classroom. One such idea is that the children roll-play different occupations and discuss how they might use certain virtues in their vocation. She mentions that this is a great opportunity to discuss WHO you are (your virtue) over WHAT you do (your vocation).
The set of clue cards that we were given did not include scripture verses on them; however, the scripture verses that correspond with the cards can be found as free downloads off of the WCV website.
What did we think?
We enjoyed using the clue cards. As I stated earlier, Aikman thought they were his personal wallet (to which he added his Christmas giftcards). It was great to be able and pull out a card as a visual reminder to tell Aikman that his "wanter" was not in check. (Yep, that's the BIGGIE that we struggle with around here… does anyone else's kids go wacko in the store and want and want and want… and WANT?!?!?) I also used the Bible verses that go with it, to illustrate to Aikman that this isn't a "Mom rule," but a trait that God wants us to have.
Personally, I am secretly wanting the Teacher Virtue Cards, which contain a more detailed explanation of how to teach the virtues on the back of each card.
You can purchase any of these materials via the links provided above, or one of their super-awesome virtue kits ($99). Currently the virtue cards are on sale for $4.99; the coloring book is $3.00; and the teacher handbook is $4.99.
Read what other TOS crew members think of We Choose Virtues here.
Disclaimer: I was given the opportunity to review the clue cards, teacher handbook, coloring book, and family character assessment in exchange for an honest review – whether positive or negative. I received no additional compensation.